Location:
Museum Hours:
October 2 - November 17
Monday - Friday: 10am - 4pm
Closed Oct. 5th - 9th
Closing at Noon on Nov. 2nd  & 6th
Office Hours:
Mon - Fri: 8am-4pm
Tours with advanced notice for 5 or more people at $5.00 per person
Adults: $4.00
Seniors (over 65): $3.00
Children (6-17): $3.00
Children (5 and under): Free
Tours are offered with advanced notice for groups of 5 or more.
Lac du Flambeau Band of Ojibwe Historical Timeline
3000 BC-1000 AD The three nations of the Anishinaabe: the Ojibwe (keepers of the Faith) the Potawatomi (keepers of the Fire) and the Ottawa (the traders) begin to migrate westward from the St. Lawrence seaway.
1500 (circa) The Anishinaabe have settled in the western great lakes region near the area of Makinak Minissing and the great falls areas.(Mackinac Island and Niagara Falls)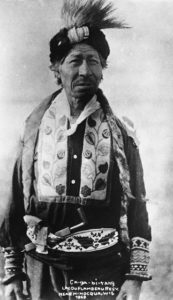 1600's Europeans make way into the great lake areas and begin to trade with the bands of Native Americans. For the next century the people would continue to venture westward following the north and south shores of the big lake called "Gitchii Gamig" (Lake Superior)
1700's The Ojibwe inhabit an island referred to Moningwanekaaning (flicker bird) this is now known today as Madeline Island, among the Apostle Islands in the northern tip of Wisconsin. In 1745 Chief Keeshkemun settles his band of Ojibwe in the area known today as "Lac du Flambeau" a French word in reference to Lake of the Torches.
1800's Several Treaties have been agreed upon by the newcomers into these territories and the Native people who have lived here, in regards the Ojibwe people emphasize in these treaties that they will be able to gather and hunt as they have for survival and are granted an area called the ceded territories which are upheld by these treaties. By 1830 the fur trade begins to wind-down.
1900's By early this century the Ojibwe are stagnant in their boundaries of reservations, the people of Lac du Flambeau have been introduced to boarding schools, logging mill and camps and the sale of their land within the reservation due to the introduction of the Dawes Allotment Act. In 1924 the Indian Citizenship Act is passed this is greatly due to the large number of Native Americans who signed up and fought in WWI. In 1934 the Tribe has first elections for Council. In the 1960's development begins in the area establishing tribal buildings.
2000 As we evolve into this century Native Americans across the continent are surviving on their own sovereignty and legislations. Casino/gaming plays major roles in the tribes mechanisms.