Location:
Museum Hours:
Indian Summer / Early Fall Hours
Monday – Friday: 10am – 4pm
Open Saturday September 15th
10am – 2pm  Wild Rice Festival
Museum is Closed
September 3rd  Labor day
September 17th – 28th (2 weeks)
October 8th – 12th
October 25th – 26th
Admission:
Adults: $4.00
Seniors (over 65): $3.00
Children (6-17): $3.00
Children (5 and under): Free
Tours are offered with advanced notice for groups of 5 or more.

The Ojibwe Museum has received a $50,000 grant from the National Endowment for the Humanities (NEH) to create a working plan to assess the current facility and systems and its capacity to protect our unique collection. This assessment will be lead by a professional team and will create a master plan on the steps needed to protect the building and collection.
The George W. Brown Jr. Museum would like to congratulate the Tribal Historic Preservation Office on the opening of their new facility (Mikwendaagoziwag) which is the old boys dorm from the boarding school. This building features the Lac du Flambeau Historic Preservation office, Lac du Flambeau Language Department, and Cultural Activities. Best Wishes!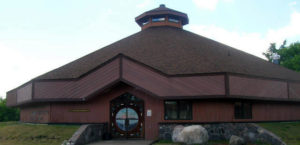 The George W. Brown, Jr. Ojibwe Museum & Cultural Center offers one of the most complete collections of Lac Du Flambeau history, seasonal workshops, interactive exhibits, cultural programs and a world record sturgeon.
You ask me who I am. If you wish to know, you must see me in the clouds. I am a bird who rises from the earth, and flies far up, into the skies, out of human sight; but though not visible to the eye, my voice is heard from afar, and resounds over the earth! Remember that the voice of the Crane echoes afar off, and when he summons his children together, they number like the pebbles on the Great Lake shore!
- Keeshkemun, Waswaaganing, c. 1813