Location:
Museum Hours:
Winter Hours
Nov. 8 - Mar. 17
Tuesday-Thursday: 10am – 4pm
Museum CLOSED
November 24th
December 22nd
Office Hours:
Mon - Fri: 8am-4pm
Tours with advanced notice for 5 or more people at $5.00 per person
Adults: $4.00
Seniors (over 65): $3.00
Children (6-17): $3.00
Children (5 and under): Free
Tours are offered with advanced notice for groups of 5 or more.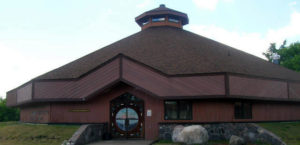 The George W. Brown, Jr. Ojibwe Museum & Cultural Center offers one of the most complete collections of Lac Du Flambeau history, seasonal workshops, interactive exhibits, cultural programs and a world record sturgeon.
You ask me who I am. If you wish to know, you must see me in the clouds. I am a bird who rises from the earth, and flies far up, into the skies, out of human sight; but though not visible to the eye, my voice is heard from afar, and resounds over the earth! Remember that the voice of the Crane echoes afar off, and when he summons his children together, they number like the pebbles on the Great Lake shore!
- Keeshkemun, Waswaaganing, c. 1813